Fire Emergency Blanket
Sale price
Regular price
49.99 $
24.99 $
A must have Fire Emergency tools that you won't regret getting!
Highly Recommended by Department of Fire and Emergency Services!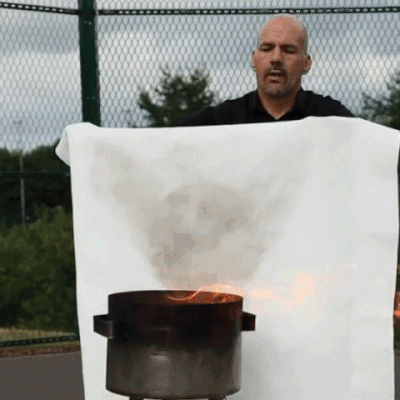 2010-2014, U.S. fire departments responded to an average of 166,100 home structure fires that involved cooking equipment per year. These fires caused an average of 480 civilian fire deaths, 5,540 civilian fire injuries, and $1.1 billion in direct property damage.
Why do we need a Fire Emergency Blanket?





Mess-free:

 No special training needed, everyone can use it in emergency.


FIRE PROTECTION:

 Wrap around your body as a heat shield


Cost-wise:

 Cheaper than a fire extinguisher & no maintenance fees
You don't want this to happen to you



The first choice in fire safety!
You can place your Fire Emergency Blanket around areas where fires are likely to start. This made it perfect for kitchens, grills, fireplaces, cars, camping sites, gas stations, restaurants, warehouses, and so on.
And because it is light and compact, you can easily grab it at moment's notice.
Fiberglass protection
It is woven out of fiberglass and will protect you from serious burns.
They work by stopping the airflow to the fire, starving it of Oxygen – one of the vital ingredients that fire needs in order to keep burning. They are a much safer option than the traditional wet tea-towel approach, which since 2008 has been advised against in government fire safety campaigns.
It allows you to move in a fire, ideal for when flames are blocking your exit or if you are trying to help others get out.
Step by Step: Using a Fire Blanket
Turn off the source of heat if it is safe to do so, if not do this as soon as possible after the flames have been extinguished.
Pull the fire blanket out of its container and stretch it out fully, making sure that it covers the size of the fire.
Keep the blanket at arm's length and approach the fire – looking over the top of the blanket, so you have a clear view of what you are doing.
Cover the burning pan, completely smothering the flames.
Leave the blanket in place for at least 30 minutes to an hour before removing to avoid re-ignition.
After putting the blanket on the flames – leave the room, shutting the door behind you and call the fire brigade. They will need to make sure everything is safe before you can re-enter the building, so this is important even if the fire has been put out.
Likewise, you can also use it to smother down flames that have just started, or wrap it around a person whose clothes are on fire.
Package includes:
1 Fire Emergency Blanket

• Material: Fiberglass cloth

• Size: 40' x 40' / 1 m x1 m

• Color: white
90 Day Money Back Guarantee
We understand that buying items online can be intimidating, so we offer a 90 day money back guarantee. We want you to feel 100% safe shopping from our store.
---
Share this Product
---
Customers who bought this also bought